I'm an OVHD and DStv installer
You must login to post comments
You must login to post comments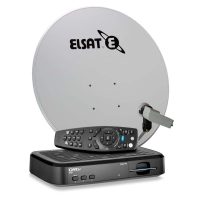 623 Qhume Street
42.02 km
Maforite is a Level-1 BBBEE township enterprise, 100% Black-owned, 51% woman ownership. In collaboration with our staff and partners we are an ICT Company offering day to day ICT Sales, Support, Security, Networking & Wi-Fi solutions.
We are a value added reseller of software, hardware and installer of niche interactive visual communication solutions catering for education, corporate and government organizations.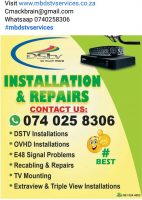 620 Lievaart Street, Proclamation Hill, Pretoria, South Africa
62.93 km
● Ovhd installations
● Plasma TV mounting
● CCTV installations
● Sound system connections
● Extraview installation
● Tripple view installations
● Decoder setups
● Smart lnb installations
● Extra TV points
● Communal dish installations ~ Hotels, Flats, Hospitals and Guests houses
Our mission is to preserve a good name in the industry and maintain high quality work to ensure the longevity of our company through repeat and referral business achieved by customer satisfaction in all areas including timeliness, attention to detail and service-minded attitudes.
Please help us adding more reviews to this page. Share your experience with us so that we can improve the quality of our services.
"A happy customer tells a friend and an unhappy customer tells the world."