SABC 2 is a South African family public television channel owned by the South African Broadcasting Corporation (SABC).
The channel brings together celebrating and empowering the nation, through cutting-edge programming that is vibrant and entertaining.
It is a full spectrum television service offering a programme mix of enlightening, informative, educational and entertaining material.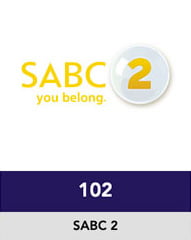 It's available on OVHD * on channel 102
SABC 2 Programming:
Soapies, Dramas and Telenovelas
Series
Music
Talk and Magazine
Religion
News and Current Affairs
Sports
Movies
Youth and Education
Slogan:
You belong
Launched:
5 May 1975 (test transmission)
6 January 1976 (start of regular broadcasts, as SABC TV/SAUK-TV)
1 January 1982 (as TV1)
4 February 1996 (as SABC 2)
* OpenView is a free-to-view Direct Broadcast Satellite television provider in South Africa which is run by Platco Digital.
It was launched on 15 October 2013.
Go to the OpenView TV guide
SABC 2 Website.