Are you an installer who can get visibility (and more work)?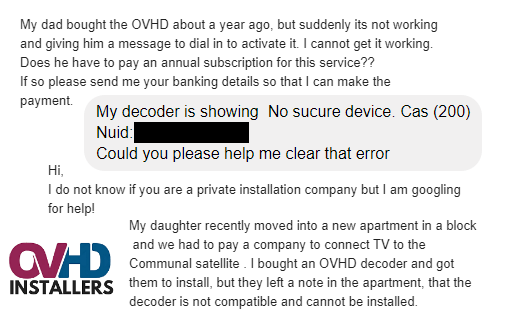 Every week we are contacted by people who are trying to watch OVHD but have problems to solve.
They contact us by email, via social networks, or through the contact form on this site.
We set up some auto responders with the references (phone number, website, etc.) of some installers for each province or large city.
If you want to be included as a featured installer, and get visibility and contacts from people who are already looking for your services, please fill out the form below.
The cost is $20 per year (plus taxes if applicable), payable via PayPal, and it includes:
Your contacts (city, province, telephone, website, etc.) will be sent to all the people asking us for help.
Your listing (including your logo, if you want) is highlighted on this website, thus appearing higher than all your competitors.
If you don't receive a follow up within 2 days, please look for emails with subject "OVHDinstallers Featured Request" in your spam folder.